Luxembourg's next Mark Zuckerberg
Sixteen teams of 19-25 year olds presented business pitches to judges at Nyuko in Hollerich last night, as part of a programme run by Jonk Entrepreneuren Luxembourg ( JEL).
Stefano Monaco and Xavier Fridrici were part of a team from Ecole de Commerce et de Gestion Luxembourg (ECG) that presented their idea, an application to allow you to reserve a parking space in advance called "Book Your Place" in just four minutes.
The "elevator pitch" also included plans to allow people to rent and book driveways and garages that are vacant during the day.
"There are some parts of Luxembourg City where it is impossible to park but driveways are not actually being used during the day," explained Xavier.
JEL provided his team with a coach from Price Waterhouse Coopers who helped them define and monetise their concept.
"Having a good idea is not always enough, you need to be able to show how it can work. Before we had no entrepreneurship experience, but this programme has really helped us take our concept to the next level," said Stefano.
The teams will pitch again in March, when eight teams will be picked for the final on 27th April. The winning team will represent Luxembourg at the JA Europe Enterprise Challenge event in Helsinki at the end of June.
One of ten programmes run by JEL for children and young adults in education in Luxembourg, the "Young Enterprise Programme" is designed to help young people learn business skills to bridge the gap between education and work.
A spring board for young entrepreneurs
"Today's business environment is complex and fast-paced, with new technology being introduced all the time. It's important to invest in young people at an early age to encourage entrepreneurship as a career option and develop the skills and competencies of young people in order to succeed," said Stéphanie Damgé, CEO of JEL.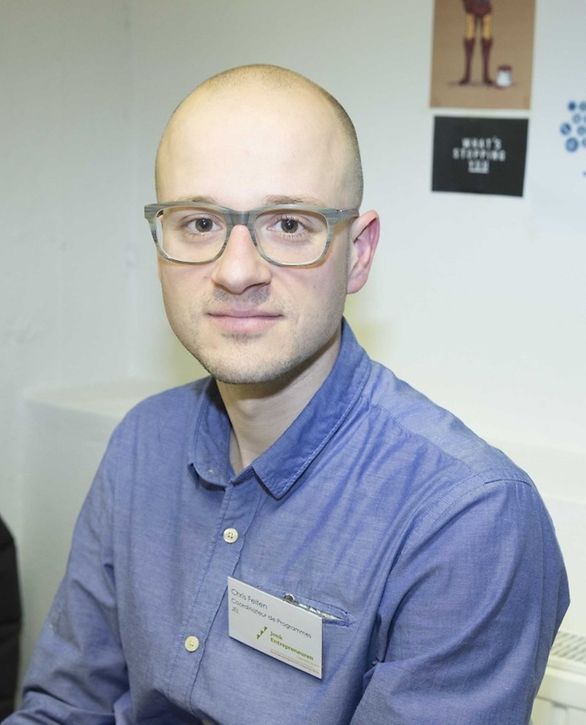 Founded in 2005, partly in response to the Duchy's high youth unemployment, which currently stands at about 18% of 18-25 year olds, Jonk Entrepreneuren Luxembourg's main goal is to bridge the gap between the education system and the business world by giving young adults the skills and competencies they need for work. It actively encourages entrepreneurship, with the aim of increasing the number of young entrepreneurs operating in Luxembourg through programmes targeted mainly at secondary and higher education, but also for primary school children aged 9-11 years.
"This specific programme encourages young adults to be innovative and creative with their business ideas for a service or product," said JEL programme co-ordinator Chris Felten, adding: "This year we had a lot of teams entering ideas focused on the ICT sector, but plans can include just about anything, so long as it's a sound business proposition."
Last year's winning team are now in the process of realising their project for an online platform that brings together businesses and consumers to market test prototypes or services still in the development phase.
JEL receives 20% of its funding from the Luxembourg government and 80% from the private sector allowing it to be independent and to create a unique ecosystem that unites chambers, private sector business, schools and government departments. Sponsors include Cactus, Arcelor Mittal, KPMG, Citigroup, Post and the Chamber of Commerce. JEL is also part of the international Junior Achievement network.
The judging panel included business people from Allen & Overy, Cactus, BCEE, Nyuko and LTECG.

10,000 young people benefit each year
About 10,000 young people take part in JEL programmes each year. They are supported by more than 400 volunteers from the business sector who act as mentors and trainers.
"The programmes provide hands-on learning experience, and we rely on business volunteers to help us deliver interactive and practical training to inspire young people. Volunteers tell us that they get valuable experience and insight from working with young people who are excited about unlocking their business potential and ideas," explained Stéphanie Damgé.
Schools interested in working with JEL, should contact them directly, as should business people and entrepreneurs willing to give up their time volunteer: www.jonk-entrepreneuren.lu