What means a lot to refugees like myself is the priceless effort made by volunteers, for example, in the many foyers to serve food at lunch and dinner time. I spoke to two young students, Matthieu and Nora, both 19 years old, who serve food in my foyer to find out why they got involved.
Getting to know the refugees
Nora is studying History of Art and Cinematography in Zurich, Switzerland, while Matthieu will next year study International Studies with a focus on the Middle East at Leiden University in The Hague in the Netherlands.
"I became so interested when Matthieu told me about this place and I was curious, but my motivation was more that I wanted to help refugees, even if serving food is just a little step," Nora explained, adding: "I wanted to hear about their stories and lives, and I wanted to show them, that we young Europeans are interested in their culture and to give them the feeling that they are welcome and appreciated here in Luxembourg."
When asked how easy it is to make friends with refugees, Nora said it depended on the individual. "Most of them are really friendly, and so I think it would be easy to make friends. Others, I have to say, seemed more reserved, so in this case it's maybe a little more difficult but not impossible."
Matthieu, for his part, opted to volunteer to know more about refugees from the Middle East and how they feel in Luxembourg. He said: "I know that they are missing their families who are still in their home country but I want to know what they really think about our culture and lifestyle.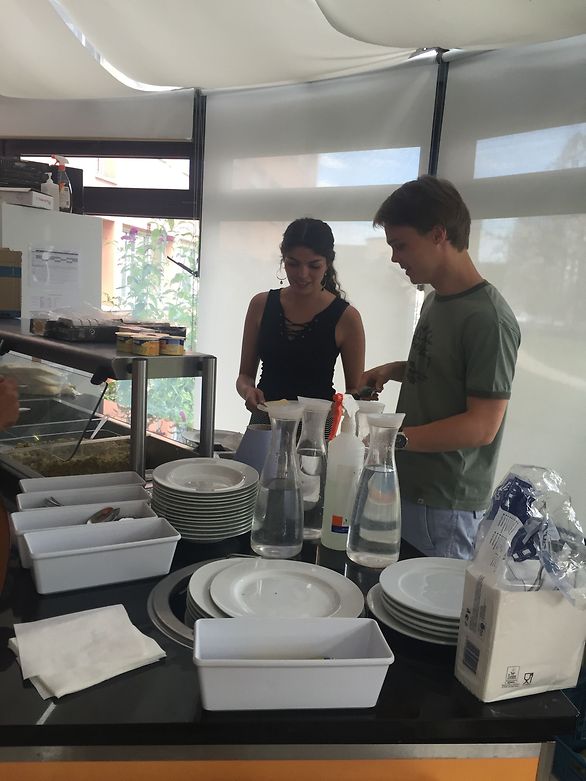 "Besides that, I would like to know their different points of view about certain things like religion, politics and how they are seeing the crisis in the Middle East."
How easy is it for refugees to integrate?
On the subject of ease of integration, Matthieu observed that it was difficult for refugees from the Middle East to integrate because of cultural differences.
That said, he added that the process depended largely on the individual's skills, age and character.
"Some people who already speak English have greater facilities than those who only speak Arabic or Farsi. Children do also have greater benefits because they are able to learn new languages in a very fast way and through school they automatically integrate a lot faster," he said.
Language barriers and personalities aside, he pointed out that integration requires collaboration from both sides.
He said, "Locals should regard it as their duty to help those people who are fleeing war and poverty and refugees should make their best to integrate themselves."
Matthieu urged the rehousing of refugees across different region in Luxembourg to avoid large camps where residents' "only contact is with other refugees".
Additionally, he said that people should have the possibility to find work, even if it won't always be possible to find something in the domain they studied or worked in back in their home country.
"Integration is a hard challenge and will take some time, but I am convinced that it is possible."