Sum 41 in Luxembourg – Don't call it a Sum-back
Canadian punk rockers Sum 41 brought their high-octane live show to Rockhal on Thursday night as they returned to Luxembourg for the first time in seven years.
Having burst onto the scene back in 2001 with their aptly named multi platinum debut 'All Killer No Filler', Sum41 have since been through the mill, with multiple line up changes and rehab for alcohol addiction. However, they returned last autumn with their first record in five years with '13 Voices', which harks back to a heavier thrash sound.
Opening with '13 Voices', frontman and last original member Deryck Whibley flew out the traps with boundless energy and verve that we've come to expect from Sum41 and never let up all evening.
Having come back from a longer than anticipated hiatus the band look to have found their groove once more, pulling out all the stops from confetti cannons and balloons to a giant inflatable skull. Whibley even picked a few fans from the front to come and join them at the side of the stage for the whole set, which I'm sure they won't forget in a hurry.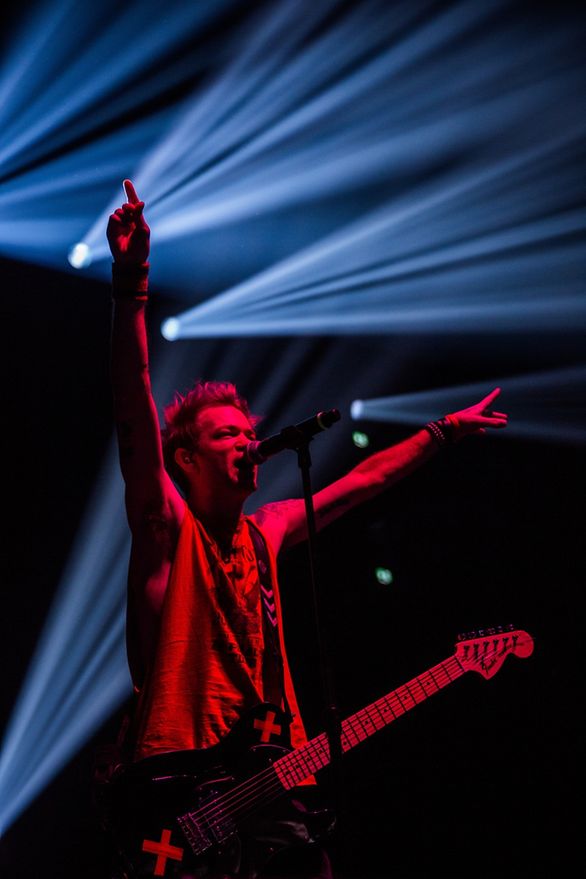 Celebrating their 20th anniversary as a band they delved back into their rich treasure trove of pop-punk classics with the likes of 'Underclass Hero' and 'war' which Whibley dedicated to the Sum41 family, as they helped him through his darkest days, referencing his public battle with alcoholism.
With the first half of the set leaning heavily on the new record with the likes of 'Fake My Own Death' and 'Goddam I'm Dead Again' Sum41 proved they're not just putting our records so they can tour the old hits, as the new album holds up next to anything that has proceeded it and given them a new lease of life live.
With the crowd feeding off the high tempo of the band it wasn't long before moshpits appeared, along with plenty of crowd surfers popping up throughout, whilst the band went into the back catalogue with 'Motivation'.
Even though they have a healthy repertoire of their own to pull from, they still brought out a couple of covers with Metallica's 'Enter Sandman' getting as good a reaction as anything on the night. Before their take on Queen's 'We Will Rock You' had the whole crowd sitting on the floor before jumping to their feet for the chorus.
Whibley had the audience suitably under his spell from the stage, however he made his way through the crowd to the back of the venue to take up a small platform in front of the sound desk, where he would play 'Make No Difference' on his own.
Although the new record produced some much welcomed thrash urgency it's the punk anthems that have allowed them to play venues the size of Rockhal for the last 15 years and when you can finish a set on 'Still Waiting' and 'In Too Deep' then you understand why their legions of fans keep returning.