British Ambassador calls for "new and equal partnership"
British Ambassador John Marshall called for a "new and equal partnership" between his country and the EU as the outcome of Brexit on Monday. Marshall spoke about "Britain in 2017" at a lunch organised by the American Chamber of Commerce (AMCHAM) and its British counterpart (BCC).
Ambassador Marshall outlined his speech by announcing to concentrate on four subjects, namely Brexit, global Britain, the UK-US relationship and the fight against modern slavery. Given current developments in Britain and the world, Brexit and UK-US relations were certainly the subjects most participants were keen to hear about.
With the British government publishing its "White Paper", laying out the strategy for exiting the EU, a lot has been written about it and the discussions in British Parliament have been gaining pace ever since. Marshall made it his mission to clarify some of the points of this strategy. Points on which, according to him, media did not focus sufficiently.
Strategic partnership with the EU
Theresa May and her government have been coming under pressure increasingly for not having presented a clear strategy to exit the EU. A pressure somewhat "unfair" according to Ambassador Marshall, as the government had to intensively prepare to be able to present a good and coherent strategy and to be in a position to invoke Article 50, triggering the divorce procedure. The timetable given by PM May, triggering Article 50 by end of March 2017, remains in place and is not affected by the recent Supreme Court ruling, he said.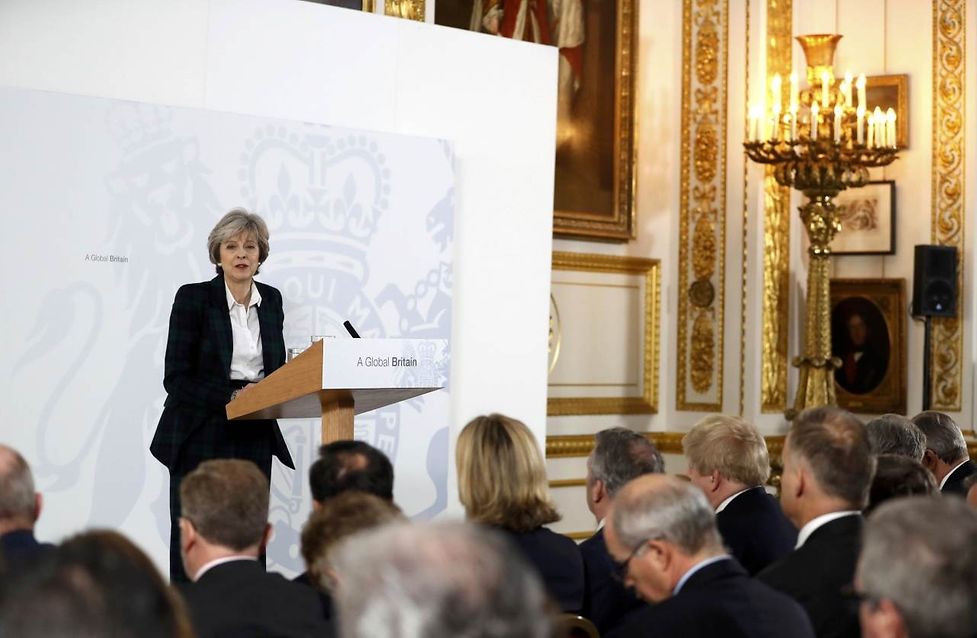 In her Brexit speech from January 17, May revealed that the UK will withdraw from the single market. An announcement which was in the focus of media reporting, rightly so according to Marshall, but he insisted on highlighting some other aspects of a speech he said was "well written and of historical relevance".
The first of three main messages the Ambassador wanted to make, was that even though Britain is leaving the EU, it doesn't want to undermine the European project and it wants and indeed needs the EU to succeed. While Britain was leaving the EU, it was not leaving Europe, he said, calling for a "new and equal partnership".
In an effort to reassure participants, and likely attentive business representatives, Marshall also insisted that the British government wanted to provide certainty and clarity. Concentrating on questions about the rights of EU nationals in the UK and UK nationals in the EU, the Ambassador underlined that Britain was willing to secure the status of all EU citizens already living in the UK, asking for the EU to give the same guarantees to UK nationals living in the different Member States.
Asked about the relations with Ireland, Marshall said that "we cannot go back to a time of firm borders" and that the progress that has been made needs to be maintained in order to have an outcome that works for all communities.
Finally, Ambassador Marshall said that Britain wants to forge a new strategic partnership with the EU, being much more than a simple free trade agreement. In other words, Britain wants "the strongest and closest relationship possible" with the EU. What such a strategic partnership would entail for the EU was left open to interpretation, with Marshall following up on those remarks with the claim that Britain was doing the very contrary of turning in on itself.
Global leader UK?
The Ambassador gave a set of examples to prove this claim. Whether it was the Iran deal, missions in Ukraine, the fight against Ebola or the Paris agreement, London was ever present, working effectively together with the EU to play a leading role internationally. Marshall also acknowledged a strong mutual interest with the EU in tackling terrorism and international crime. But all of this wouldn't mean that the UK didn't have its own foreign policy identity outside the EU.
Indeed, PM May had set out the idea of a "global Britain", not only in her Brexit speech, but also as she was speaking at the World Economic Forum in Davos, Switzerland. A British Nation that is outward looking, globally active and that seeks free trade deals with as many countries as possible while renouncing 27 trade deals at once and looking to a US partner that has an "America first" President at its helm.
Marshall doesn't see a contradiction here. He was praising the leading position his country is taking in different areas worldwide, be it as the only G20 country spending 0.7% of its GDP on development aid or being the "largest military power in Western Europe". This "internationally recognised" leadership role will continue, he said. Whether this will include compensating for a possible lack of American leadership in future remains to be seen.