Clinton & Trump stage duelling rallies as race narrows
Hillary Clinton and Donald Trump squared off Thursday in do-or-die North Carolina with duelling rallies — and some star power in the Democrat's camp — as the bitter US presidential race continues to narrow in the home stretch.
As the candidates jostle for supremacy in the handful of battleground states that will decide the November 8 election, two of the biggest prizes on the electoral map, Florida and North Carolina, are now absolute dead heats, according to RealClearPolitics poll aggregates.
Democrat Clinton unleashed top surrogates including President Barack Obama to bolster her case in a final push, while billionaire Trump deployed wife Melania to soften the brash Republican's image.
North Carolina was suddenly in the eye of the political storm
North Carolina was suddenly in the eye of the political storm, with the candidates frantically criss-crossing the southeastern state where they are locked at 46.4 percent apiece.
The candidates' motorcades even passed one another Thursday on the tarmac at the Raleigh-Durham airport ahead of their rival rallies.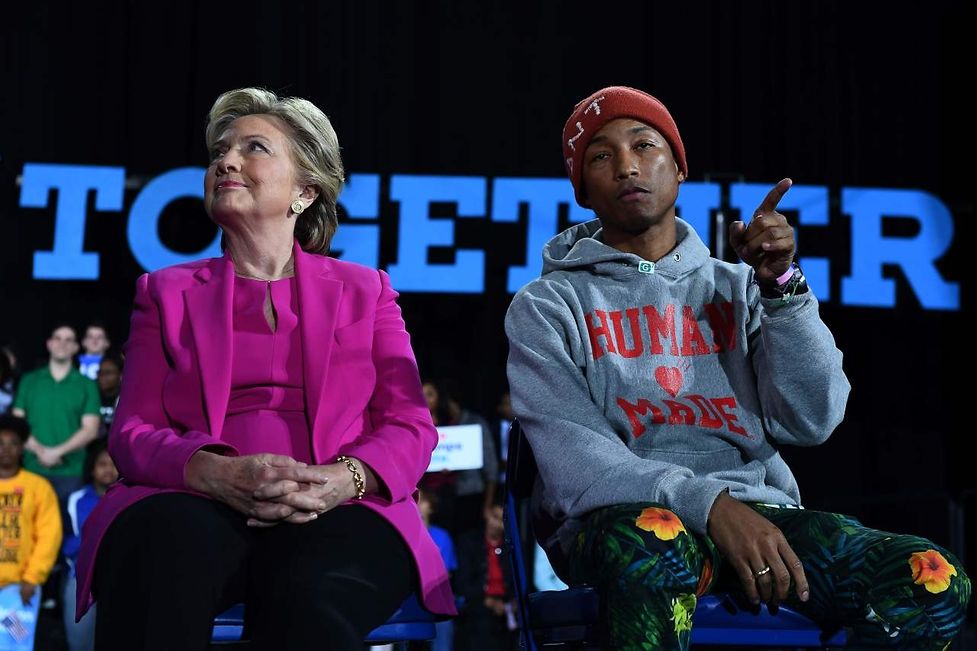 "You've got to get everyone you know to come out and vote," Clinton implored supporters in Raleigh, where she was joined by her onetime primary adversary Senator Bernie Sanders and "Happy" singer Pharrell Williams.
"The best way to repudiate the bigotry and the bluster and the bullying and the hateful rhetoric and discrimination is to show up with the biggest turnout in American history."
Williams, dressed in a hoodie, sought to pump up black voter turnout — crucial to Clinton's White House aspirations — which is down in early voting in several states from four years ago.
"For my culture, I know they sometimes call us minority but you see our influence everywhere, we are not minority, we are majority," he said.
"We're black! Beautiful! So if you've ever been called a minority ever in your life… go out and vote and show everybody that you're actually really the majority."
Obama shuttled into Florida for fiery rallies aimed at turning out the Democratic base for Clinton in a must-win state for Trump, who is under pressure to snatch battleground states and even poach one or two Democratic strongholds if he is to prevail.
Clinton's lead shrinks to three points
A nationwide CBS/New York Times survey showed Clinton's lead shrinking to three points, at 45 percent against Trump's 42 percent, a sign the bombastic mogul is winning over once-wary Republican voters.
After months of vitriolic and turbulent campaigning, political tribalism appears to be returning to the fore in the deeply divided nation ahead of Election Day.
"This will be a close race and you cannot take it for granted," Obama warned supporters in Jacksonville, painting an apocalyptic vision of what Trump would mean for American democracy.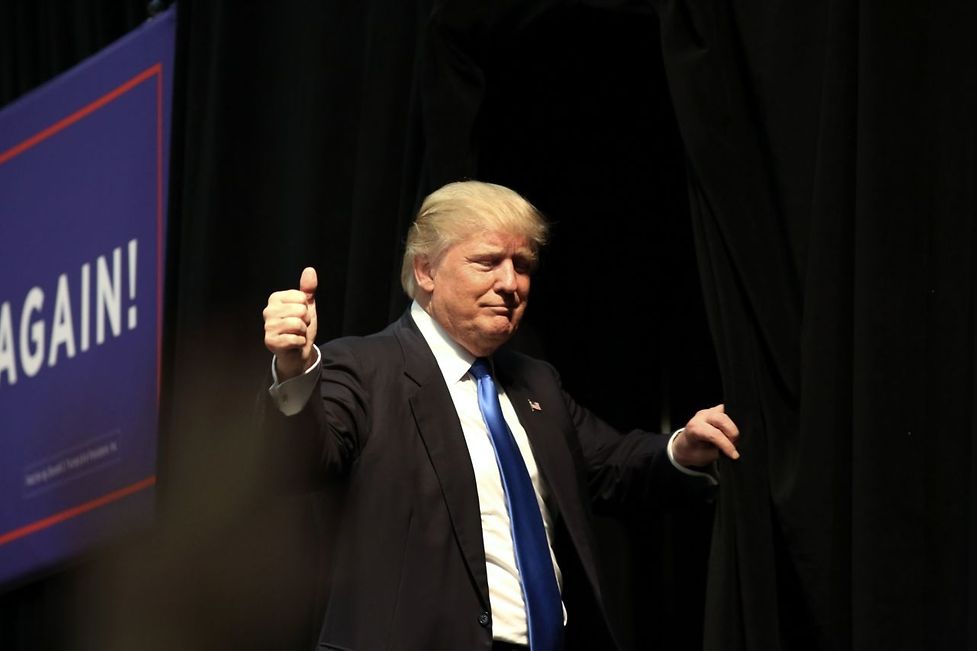 Clinton added to the portrayal, telling North Carolinians that "if Donald Trump were to win this election we would have a commander in chief who is completely out of his depth and whose ideas are incredibly dangerous."
Running mate Tim Kaine visited the border state of Arizona, making a play for Hispanic voters by delivering a speech entirely in Spanish.
Trump heads Friday to New Hampshire, Ohio and Pennsylvania, while Clinton stumps in Ohio and Michigan.
Clinton's last stand will come in Philadelphia on the eve of the election for a joint rally binding America's two most powerful political dynasties.
She will be joined by husband Bill Clinton, President Obama and 2016's most potent campaigner, First Lady Michelle Obama.
Pennsylvania is a firewall for Clinton
Pennsylvania is clearly a firewall for Clinton; a Trump win there would be a giant step toward his becoming the 45th president.
But a rally in Philadelphia — the City of Brotherly Love — sends an unmistakable message: Trump is a threat to the republic.
It was here that the US Constitution came into being in 1787.
Melania Trump, the Slovenian-born former model who could become America's first foreign-born first lady in two centuries, also chose Pennsylvania Thursday for her first solo campaign appearance.
"He certainly knows how to shake things up, doesn't he?" she said of Trump's incendiary campaign.
Trump's third wife insisted her husband, with whom she lives in opulence, was running to improve the lives of suffering workers, struggling parents and children.
She also made a bald play for votes of suburban mothers, who could make all the difference in the tightly contested state where Clinton's lead has narrowed, by fretting that "children and teenagers can be fragile" and pledging to address bullying if she becomes first lady.
Despite the Manhattan mogul's boasts about sexual assault and allegations of groping by several women, white women are evenly split between the candidates, the CBS poll showed.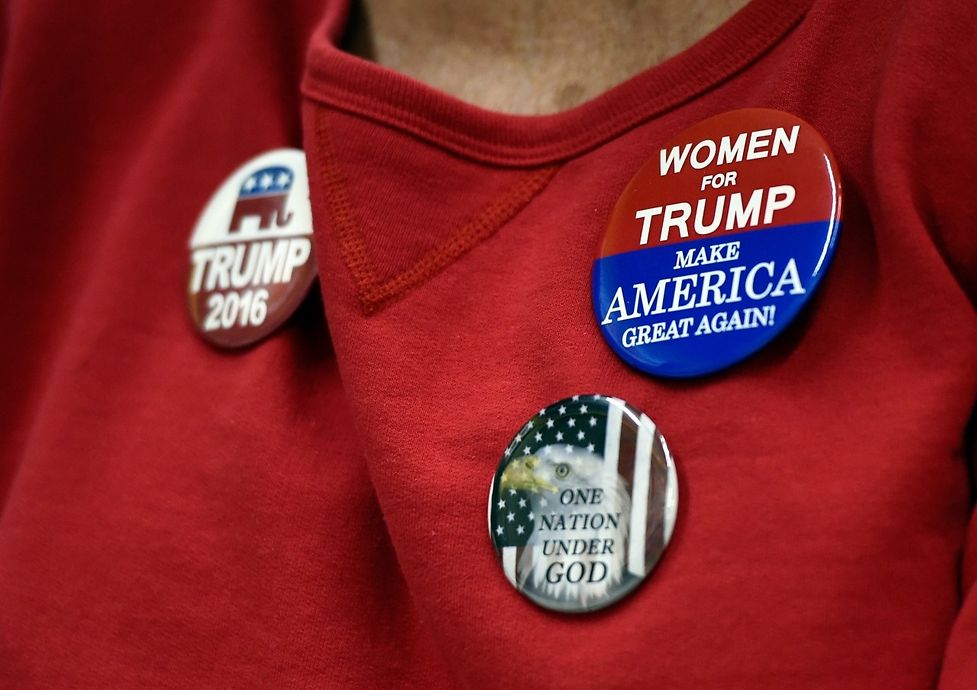 Republican skepticism about Trump ebbing
As the race nears its conclusion, profound Republican skepticism about Trump's controversial candidacy appears to be ebbing.
"I think Republicans are coming home," Congressman Jason Chaffetz told CNN.
Similarly, Clinton's FBI troubles — the bureau is taking new looks into the case of her private email server — appear to have dissuaded few Democrats, with only eight percent saying it would make them less likely to vote for her.
But CBS News, citing US officials, reported that the FBI has found emails related to Clinton's time as secretary of state on a laptop belonging to close aide Huma Abedin and her estranged husband Anthony Weiner, the disgraced ex-congressman under investigation for sending sexual messages to a minor.
Trump has seized on the controversy, airing a new ad highlighting the FBI probe and declaring Clinton "unfit to serve" — language Clinton often uses to describe her rival.
With the campaign in its final stages, Trump was sticking to the teleprompter and avoiding his most explosive rhetoric.
"Nice and cool. Right? Stay on point, Donald, stay on point," the 70-year-old said aloud during a Florida rally.