Jean-Claude Juncker to unveil plans for life after Brexit
European Commission President Jean-Claude Juncker will on Wednesday unveil a menu of options for the EU's future in the hope of rebuilding unity after Britain leaves the troubled bloc.
Juncker's "White Paper" will be presented to the European Parliament in Brussels, before it is given to national leaders to help prepare for a key summit in Rome in March marking the European Union's 60th anniversary.
Resistance has already begun against some scenarios, including a plan for a "multi-speed" Europe that poorer Eastern European nations fear will be used by big guns like France and Germany to freeze them out.
But many leaders are convinced the EU needs new answers after Britain's traumatic vote to leave, and with fears of populist parties making headway in elections this year.
"We see Juncker's white paper as being the birth certificate of the EU at 27," after Britain becomes the first state to quit the 28-nation bloc, an EU source said on condition of anonymity.
"We want Rome to be a birthday celebration but also to start a very organised debate on a number of specific options that we think get bring unity and cooperation."
'Pathways' to unity
Former Luxembourg premier Juncker's plan will involve a handful of "pathways", reportedly four or five, to build "unity and cooperation" in the EU after years of economic and political crisis.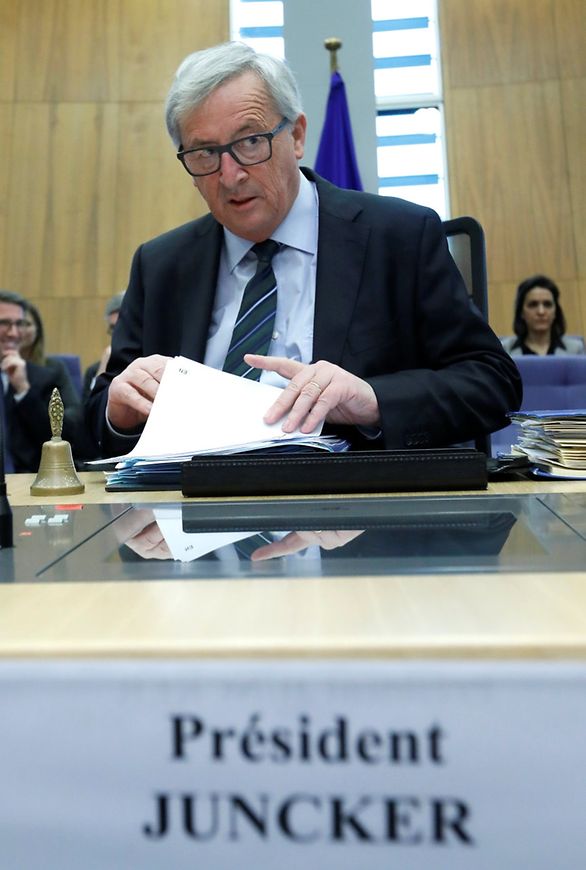 One option will be to allow EU countries to integrate at different speeds, with like-minded nations choosing to cooperate more closely on areas such as the euro currency and defence.
Another would be to keep the status quo, with EU countries trying to stay more unified, but with the downside that it would mean more bitter arguments on issues like migration.
Further scenarios would be to push for the full dream of a federalised Europe, or to concentrate on finalising the EU's single market of 500 million people.
Officials were still drafting the White Paper through the night and had yet to finalise the different blueprints, they said.
But Poland has led Eastern European states in expressing concerns about a two-tier EU, fearing they could be frozen out by core Western states, especially on issues like migration where the east has taken a more hardline stance.
Others will be suspicious of Juncker's white paper given his history as a key proponent of further integration and a key figure in the establishment of the euro before he took over as head of the EU's executive branch in 2014.
'Concentric circles'
Britain's shock June 2016 vote to leave the EU — coupled with crises involving the economy and migration — has plunged the remaining 27 member states into a deep bout of soul-searching.
At a special summit in Italy to mark the 60th anniversary of the Treaty of Rome which founded the EU, the bloc's leaders will meet without Britain and issue a special declaration with new plans for future.
Juncker said last week that his own White Paper would involve EU members being able to integrate at different paces — describing it as a Europe of "concentric circles".
"It is no longer the time to imagine that we can all do the same thing together. I will argue for this in the days to come,"  he said.
"Those who agree can do most things together, so they can agree to do what is necessary to do, whether at 15 or 28," he said.
EU leaders are also keen to move on and not let the entire European project get bogged down in what promise to be difficult negotiations with Britain over its exit, which is expected in 2019.